migraines effin suck arse 8/27/2008
---
woke up with an even worse stiff neck. i can turn my head ever so slightly to the left and right. even lifting my head up causes pressure and pain.
i do have an all over headache as well.
i remember i was diagnosed with transformed migraines when this all came about 7 years ago. i don't know why i just recalled that, but it is significant i think. b/c these headaches aren't typical migraines every day. they start seeming like tension headaches or rebound headaches. but i can't figure out why they've reappeared after so many years. yeah i had random ones since then, some lasting a few hours, some lasting a few days. and as i look back, they did increase in severity as time went on. argh this is so frustrating.
eta...it's after 2 pm and the pain is still there, is sorta all over but mainly at the base of the head/brain area. and it's mild to moderate in intensity. but the stiffneck thing...i might as well have a neckbrace on since it hurts to move my head in any direction. so i move my entire body. driving sure is fun this way, especially when checking blind spots. =/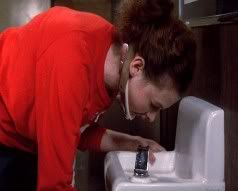 Comments